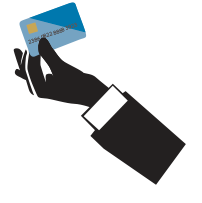 eCommerce
Today's eCommerce marketplace is extremely competitive. Providing your customers with convenient online credit card processing is as important as selling a quality product or service. Research shows that consumers increasingly choose credit cards and ATM/Debit cards as their preferred method of payment, boosting Internet sales by 100%.
How Payment Processing Works
For all credit card processing, there are two parts: the authorization and the settlement.
Authorization means that the fund's availability is verified and, if available, they are put on hold automatically. This important step defines the "approved" or "declined" status of a payment process.
Settlement is the process by which the money that was put on hold is electronically captured and transferred into the merchant business bank account. In most cases, this process takes 48 business hours.
Online Credit Card Processing
eCMS is proud to offer Authorize.Net as our Payment Processing Gateway. This online, secure credit card and ACH/electronic check processing program was developed with the Internet merchant in mind. The benefits of Authorize.Net include:
Real Time Authorization.
Compatibility with any computer platform, modem or software.
Ongoing upgrades and enhancements, ensuring you a cutting edge credit card processing program without future upgrading expense.
Links to almost any Internet Merchant Account.
Easily customizable for any Internet Store.
Accessible from ANY computer with Internet access.
Recurring Billing Feature.
Complete Reporting Capabilities.
Redundant Backup Systems
24/7 Customer Support
As an Internet resident program, Authorize.Net links to your existing web site and provides your business with two distinct features: The Virtual Terminal and The Web Link.
The Virtual Terminal
The virtual terminal was designed for manual entry of live credit card and electronic check transactions, as well as the administration and tracking of all transactions received through Authorize.Net. The virtual terminal is especially beneficial in the following situations:
When orders are received via phone, fax or e-mail.
When recurring billing is required (in other words, when you have a service to which your customers subscribe or a product which is purchased on a scheduled basis).
When reports on transaction or batch activity are required.
When credits need to be issued.
The Web Link
The Web Link allows the merchant to link their website directly to the Authorize.Net program. Customers are able to add products to their shopping cart and then purchase them by entering their credit card and billing information online. Authorize.Net provides a Secure Socket Layer for transaction information and verifies each transaction through the Address Verification System for added protection. The merchant is also provided with a Payment Form template and Receipt Form template that can be customized for their site. With the Web Link, your store becomes a completely automated, always open, money making machine.
Support for Cardholder Authentication Programs
What does this mean for you? Verified by Visa and MasterCard SecureCode allow enrolled cardholders to setup a unique username and password, which must be validated to complete an online transaction. By offering cardholder authentication programs, merchants can provide payment authorization and increased transaction security for their customers while receiving chargeback and fraud liability protection from Visa and MasterCard. In short, the liability is no longer on the merchant- it goes directly to the card issuing bank making chargebacks a thing of the past! For more information please check out and integrate Verified by Visa and MasterCard SecureCode.
Optional Features
Advanced Fraud Detection Suite (AFDS)
eCMS and Authorize.Net are pleased to announce the availability of the new AFDS! This set of customizable, rule-based filters and tools can help you further strengthen the security and reliability of your account by enhancing your current fraud detection and management practices. Additionally, AFDS can prevent costly authorization and chargeback fees, as well as possible inventory loss that often results from fraudulent transactions.
The following transaction filters and IP address tools are designed to complement your current fraud detection practices based on custom settings you configure to match your processing needs:
Amount Filter- Allows merchant to set lower and upper transaction amount thresholds.
Velocity Filter- Allows merchants to limit the total number of transactions
Suspicious Transaction Filter- Examines transactions based on proprietary transaction behavior analysis.
Shipping-Billing Mismatch Filter- Allows merchants to identify transactions with different shipping and billing addresses.
Transaction IP Velocity Filter- Allows merchants to restrict the number of transactions received from the same IP address per hour.
Authorized AIM IP Addresses- Allows merchants submitting Advanced Integration Method (AIM) transactions to list server IP addresses that are authorized to submit transactions.
IP Address Blocking- Allows merchants to block transactions from IP addresses.
In addition, the following AFDS features make it easier for you to control suspicious transactions:
Filter actions allow you to determine how suspicious transactions should be handled; including approve, hold for manual review or decline.
Receive email notification each time a transaction triggers a filter.
View reports for transactions that have triggered filters in the past 30 days and transactions currently held for manual review.
Use the Setup Wizard to configure and enable your filter and tool settings.
And more!
No Additional Setup Costs
$9.95 Monthly Access Fee
Automated Recurring Billing Service (ARB)
This powerful tool enables you to provide a scheduled recurring billing service to your customers. ARB is completely automated- there's no manual entry of transactions required at each billing. The process is simple.
You will create an ARB "subscription" (using a subscription form similar to the Virtual Terminal) that includes the customer's payment information, billing amount and a specific billing interval and duration. The payment gateway does the rest, generating the subsequent recurring transactions based on the set schedule. Subscriptions may also be created from eligible previous transactions and via batch upload. Additional ARB features include subscription management and search tools, which allow you to easily find and maintain individual ARB subscriptions.
No Additional Setup Costs
$10.00 Monthly Access Fee
Customer Information Manager (CIM)
Tokenize and store your customer's sensitive payment information in a PCI-DSS compliant manner by creating customer profiles that are stored on secure servers with CIM.
By providing quick access to stored customer information, CIM is ideal for businesses that:
Process recurring transactions where the date and/or amount is different each month (e.g. utility companies).
Process usage charges- where you only bill when the service is used (e.g. pay-as-you-go cell phones).
Are concerned with PCI compliance.
Want to provide recurring customers with the convenience of not having to re-enter personal data.
The CIM API supports integration with a website payment form or a proprietary business application. The profiles, which include payment and shipping information, can then be referenced in future transactions, eliminating steps in the transaction process for repeat customers and potentially increasing customer loyalty.
No Additional Setup Costs
$20.00 Monthly Access Fee
eCheck.Net
eCheck.Net is Authorize.Net's payment solution that enables online and traditional merchants to accept and process electronic check payments directly from their website's storefront or through the Authorize.Net Virtual Terminal. By accepting electronic checks, merchants are able to expand the payment options available to their customers and potentially increase their sales. eCheck.Net is an ideal solution for businesses that periodically bill their customers or do not have a commerce-enabled website. Health clubs, tanning salons, subscription services, ISPs, membership companies and health card practitioners are all examples of the types of businesses that would benefit from the eCheck.Net service.
No Additional Setup Costs
Discount rate and per transaction fees starting at- 0.55% + $0.35
$10.00 monthly minimum- this minimum is met when the discount rate and per transaction fees reach $10.00, if you do not meet the minimum, you will only pay the difference.
Mail Order Telephone Order Credit Card Processing
eCMS, in conjunction with Priority Payment Systems, is proud to provide the MXMerchant.com merchant interface offering free access to reporting and PCI maintenance for each of our clients. Additionally, MXMerchant.com can be upgraded to allow for manual entry of credit card transactions. This solution is ideal for those merchants that do not require a secure link integrated with their website shopping cart and only receive orders via phone, fax or e-mail.
MX Basic Virtual Terminal Upgrade Benefits Include:
Secure online access for manual entry of credit card transactions.
Allows for customized invoices that can be sent via e-mail or text message. Cardholder is provided with a secure link within the invoice that allows for easy entry of card information for real time authorization.
Recurring invoices for automatic bill payments.
Inventory Tracking.