Card Present Processing Explained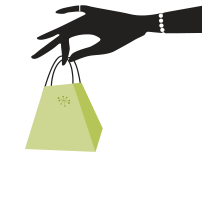 The term "Card Present" describes a credit card transaction that is initiated at the point of sale (POS). When the credit card is swiped at purchase, data from the cards magnetic strip is read and transmitted via a physical terminal. This solution is best for merchants with a store front or who attend trade events.
eCMS is proud to offer a variety of solutions to the Card Present Retailer! Whether you are mobile or a store front needing an advanced solution, or whether your needs are simple, our highly skilled representatives can address your specific business needs.
Solutions For Store Front Merchants
Authorize.Net Virtual Point of Sale (VPOS)
Authorize.Net can accept retail card transactions from a wide range of businesses, for example: sports venues, clothing and furniture stores, doctor's offices, self-service kiosks, hotel reservations and restaurants. Even mobile merchants such as limousine and other transportation services or businesses selling items at craft fairs and trade shows can benefit
Please Note* at this time Authorize.Net Card Present capabilities do not include hospitality transactions (e.g. hotel transactions) or debit transactions. In addition, they do not currently support the Visa and Master Card restaurant transactions format. However, they can accept Card Present transactions from restaurants when transactions are formatted as retail transactions rather than restaurant transactions. With the appropriate programming of POS software, tips can be managed effectively. For more information, e-mail integration@authorize.net.
Authorize.Net's Card Present solutions include software for a personal computer, IP-enabled POS terminals and mobile/wireless POS devices that support Secure Sockets Layer (SSL). We have listed a few of the software providers. If you would like to see the complete list of software providers, please visit www.authorize.net
Benefits of IP-Based Card Present Transaction Processing
By using a continuous broadband Internet connection, merchants will enjoy 2-5 second authorization times, speeding up checkout lines and maximizing productivity.
By eliminating POS dial-up connections, merchants can save money by reducing the number of dedicated phone lines.
IP- enabled POS solutions will allow merchants to easily integrate transaction information across enterprise business management or inventory applications. For example, this might benefit businesses that track jobs or tickets, such as a medical office, dry cleaners or auto repair shop.
Merchants can use Authorize.Net to operate their company's retail and online business.
Authorize.Net CP capabilities also give mobile merchants (e.g., taxis and limousines, craft and trade show vendors) with compatible IP-enabled wireless devices the ability to accept transactions wherever they go, potentially increasing their sales opportunities.
With Authorize.Net certified CP solutions, merchants can leverage the speed and efficiency of the Internet and maintain their lower CP transaction rates.
IP-enabled POS solutions also allow a single integration point to multiple processors.
Authorize.Net Certified Point of Sale Solutions
The list below provides information about CP solution providers. For a complete list please visit www.authorize.net.
POS•IM Retail Management Solutions, proven with over 6,000 users during the last 15 years, focuses on inventory management and POS solutions for independent-minded retailers by providing them with the same tools that the mega stores have. Reseller commissions are available through this solution.
PayGo by Christian James, Inc. provides retailers with full-featured POS systems and service at an affordable price. Their solutions run on both PCs and Macintosh computers. For more information, please visit their Web site or contact Linda Crippes at linda@christianjames.net or 1-763-684-1257.
MobileCharge.Net enables merchants equipped with a compatible wireless PDA and MobileCharge.Net's printer with integrated mag-stripe reader to submit, authorize and complete wireless credit card transactions via the Authorize.Net Payment Gateway. For more information e-mail sales@mobilecharge.net.
Developer Support
Developers that would like more information about certifying their POS solutions with Authorize.Net can download our Card Present Implementation Guide at http://www.authorizenet.com/support/CP_guide.pdf. They may also send an e-mail to integration@authorize.net.
Apply now! We can have you up and running in about 48 hours!
MX Point of Sale
eCMS and Priority Payment Systems are proud to team up to provide MXMerchant.com. Through this online interface you have access to free merchant account reporting and analysis along with excellent customer service and PCI-DSS compliance maintenance. In addition, you can opt to upgrade your MXMerchant access to any one of the advanced programs below.
MXMerchant Basic Plan
Povides the reporting and PCI maintenance plus:
Virtual Terminal
Mobile Point of Sale App- Download a free App onto your Apple Iphone, Ipod or Ipad to accept payments on the go or to integrate it with the MXMerchant checkout system (see below)
Custom Invoices-  Email or text message a secure payment link via invoice.
Recurring Invoices-  Setup automated bill payments.
Inventory-  up to 100 items.
API Access-  create a secure payment link that can be imbedded on your website.
MXMerchant Premium Plan
Provides everything MX Basic plan provides, plus:
Loyalty- create a loyalty program that tracks what your customers spend so that you can offer discounts and rewards.
Inventory- up to 25,000 items
Equipment
eCMS provides equipment that is on the forefront of technology and PCI compliance. All equipment sold will be EMV (Europay, MasterCard, Visa) compatible so that our clients can meet current industry standards.
Tablet-Based POS with Cash Drawer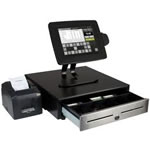 For counter sales, MX Point of Sale offers an iPad-based solution complete with a cash drawer, receipt printer, and barcode scanner. Sleek and sophisticated, it allows you to conduct transactions, manage inventory, run reports, and more. This fully integrated system gives you access to all the features of your MX Merchant credit card processing product. Customer database, couponing, Pay By Name—it's all accessible through MX Point of Sale.
---
Line Buster Handheld POS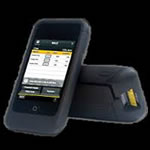 Create a new retail environment with handheld checkout! MX Point of Sale encourages more customer interaction by allowing your sales representatives to conduct transactions anywhere within WiFi range using an iPhone, iPad or iPod Touch. Make sales wherever your customers are, with no lines and no waiting! Scan the barcode or select from inventory, swipe a credit card through the card swipe cradle and have your customer sign the screen with a finger. It couldn't be easier or more convenient, for you and your customers.
---
VeriFone® VX 510 Dual Modem Terminal w/Internal PIN Pad
Model Number: VX510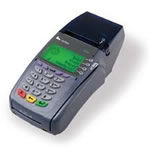 VeriFone's VX 510 offers extraordinary performance for payment and value-added applications — and it dramatically reduces transaction time to just a few seconds.
The Vx 510 offers a choice of two connectivity options: Ethernet and dial. The dual communications options allow built-in dial capability to be used today, then switched to Ethernet at any time. Merchants with existing broadband service can immediately process payments. It's simple, reliable and future-proof.
---
VeriFone® VX 570 Dial Terminal w/Internal PIN Pad
Model Number: VX570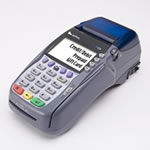 The most flexible offering in the countertop series, the RoHS-compliant* Vx 570 includes all the benefits of the Vx 510 plus a white screen with larger display, PCI PED approved, modular dial or dial + Ethernet connectivity, up to 12 MB of memory, optional larger paper roll, and USB technology port for 5-second memory stick download.
Note: This unit comes with a power pack.