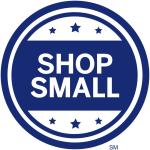 Anyone who has been paying attention to the news, economy forecasts, or even social media recently can tell that small businesses are becoming a Big Thing. It probably would not even be going too far to label 2014 the 'Year of the Small Business.' Let's take a look at what is helping small businesses grow in both profits and popularity, and what the new year of 2015 might hold in store for them.
For starters, there is the simple fact that buying local and supporting your nearby small businesses does wonders for your own community's economy. When you buy from a big name store, such as Walmart or Target, that money instantly leaves the area and heads for corporate headquarters. Sure, the local employees still get paid their wages and that money will circulate mostly locally, but everyone knows corporate is where the real money is at. Since the majority of profits gets sent away to be spent elsewhere around the country, or even the world, spending money at these bigger companies really does not do anything to support your local community.
However, when you spend money at a local small business, that money primarily STAYS local. Nwitimes.com published an article that stated that "dollars spent with local merchants circulate 6-7 times," and gave the perfect example of how supporting a local businesswoman then allows her to "[support] your kid's baseball team with her hard-earned dollars" (1).
While it is a fact that buying local supports your own community, there have been some major contributing factors to this concept's recent growth in popularity. Probably the one with the largest impact has been American Express' "Small Business Saturday," which falls on the day after Black Friday (the day after Thanksgiving) each year.
Started in 2010,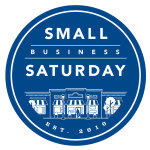 this fairly new tradition has only increased in significance and reach every year. American Express took the initiative by forming an entire ad campaign designed to increase awareness of and support for small businesses, and has supported it whole heartedly ever since. In 2011, the day became officially recognized by its current title, with "governors, mayors, senators, and even President Obama all voic[ing] their support" (2).
This past year, 2014, the new holiday tradition got an even bigger boost from social media network giant, Twitter. Venture Beat reported, "Twitter is offering $1 million in free ads for small businesses. The first 10,000 eligible businesses in the U.S. will get $100 in free advertising credits each, which they can use for promoting tweets or for promoting their own Twitter accounts" (3). In addition to Twitter contributing this way of supporting small businesses directly, the hashtag "#smallbiz" was also trending for weeks prior to Small Business Saturday! This caused the idea of supporting small businesses to reach many consumers who might not have previously thought about its importance, not to mention further cementing Small Business Saturday as a widely accepted holiday tradition.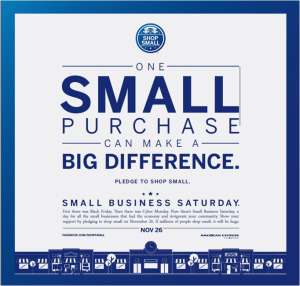 With the increasing support that even big name companies have been showing towards them, it is not very surprising that many economical forecasts for the new year show small businesses doing very well in 2015. Business2Community has predicted that, "Small Business will 'win' the local war," because, "in 2015, the growing influence of mobile on platforms like search engines and social media, will shift the advantage in favor of small business" (4).
Research company Gallup also released several positive predictions, such as "that 26% of small-business owners say the number of jobs at their companies will increase in the next 12 months" (5). Another piece of information they determined was that, "[c]urrently, 71% of business owners expect their companies' financial situation in the next 12 months to be 'very good' or 'somewhat good,' up from 50% just two years ago, and the highest since 2007." The overall conclusion to be gleaned from their survey is this: "Small-business owners in the U.S. are more optimistic now than at any time since early 2008."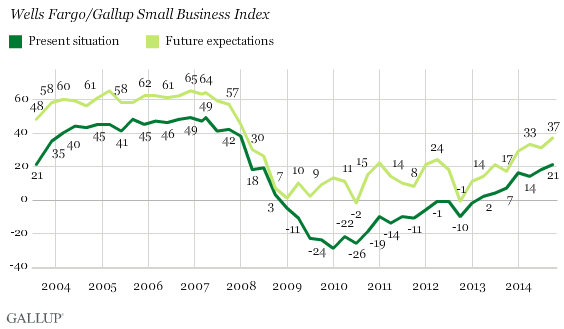 The growth in popularity that small businesses have been seeing lately, in part due to American Express and Twitter's efforts, has been helping more and more people realize that spending small and local helps their own community's economy so much more than spending at big name and chain stores does. When you combine this continued education effort with the optimistic predictions for our economy over the next year, it is easy to tell that things are going to keep improving for small businesses. Maybe 2015 will be the real 'Year of the Small Business'!
—-
References:
1) www.nwitimes.com/news/local/lake/hammond/buy-local-and-support-the-merchants-who-support-your-community/article_f969d194-1260-5234-87bf-17df5bb3dfb2.html
2) https://www.americanexpress.com/us/content/small-business/shop-small/about/?linknav=us-open-shopsmall-homepage-about
3) http://venturebeat.com/2012/11/20/twitter-supports-small-business-saturday-with-free-ads/
4) http://www.business2community.com/small-business/4-small-business-marketing-predictions-2015-01103050
5) http://www.gallup.com/poll/179876/small-business-optimism-highest-early-2008.aspx