For the third w

eek of our blog series focusing on Authorize.Net's optional features, we are going to be looking at the Customer Information Manager (CIM). Just like Automated Recurring Billing and Advanced Fraud Detection Suite, there is no additional set up cost or charge to use CIM.
This feature allows merchants to create customer profiles that are stored on Authorize.Net's secure servers, thus requiring you to only ask for and input the customer's credit card, billing, and shipping information once. CIM even allows you to save multiple shipping addresses and payment methods within a single customer profile. The profiles can then be referenced in future transactions, eliminating steps in the transaction process for repeat customers and potentially increasing customer loyalty.
By providing quick access to stored customer information, CIM is ideal for businesses that process habitual transactions where the date and/or amount is different each month. Whereas Automated Recurring Billing (ARB) is designed for businesses that charge their members the same amount at the same time on a regular basis, CIM allows for a more manual control of transactions.
A perfect example of the kind of company that would really benefit from this feature is a utility services company, such as for electricity or internet. When you create your customer's membership, you know that they are going to be making payments every single month. However, you don't yet know how much that amount will be, and it is likely to change every time.
Really, though, Customer Information Manager is a valuable tool for any business that wants to provide returning customers with the convenience of not having to re-enter personal data every time they make a payment. Also, the fact that all of this customer information is stored on Authorize.Net secure servers allows you to be Payment Card Industry Data Security Standards (PCI-DSS) compliant, giving both you and your customer greater piece of mind about data security.
If you ever want any support in setting up or maintaining CIM subscriptions, please feel free to call eCMS at 1-888-277-3332. We would be happy to walk you through the process and answer any questions you may have.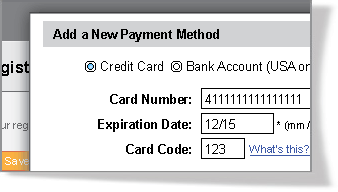 You can find more information about Authorize.Net Customer Information Manager service here:
http://www.authorize.net/solutions/merchantsolutions/merchantservices/cim/
There is also a video all about CIM at the bottom of the above linked page.