As resellers of Authorize.Net, we fully believe that it is the best gateway option for our merchants. Beyond the fact that their authorization service is extremely reliable – achieving results within 2-5 seconds – the extra features that they offer add even more protection and convenience for users.
They have four main optional features that many merchants find helpful. All of these have no additional set up cost, and three are actually completely free! I am going to spend the next few blog posts focusing on each of these four features one by one, as well as providing resources to learn more about them. Please remember, though, that you can also always give us a call here at eCMS with any questions you have regarding these features or anything else relating to your gateway or merchant accounts.
The first of Authorize.Net's extra features that we are going to look at is the Advanced Fraud Detection Suite (AFDS). This consists of a set of customizable, rule-based filters and tools that can help you further strengthen the security and reliability of your gateway account, by enhancing your current fraud detection and management practices. Additionally, the AFDS will help prevent the costly chargeback fees, as well as possible inventory loss, that often result from fraudulent transactions.
To put all of that in simple terms: the AFDS allows you to be more picky about which transactions will make it to the authorization point. For example, if you are finding that any transactions over $1000 end up being fraudulent, you can turn on the Amount Filter and specify that. If you are seeing many suspicious transactions coming in from Africa, you can turn on the Regional IP Address Filter for that country.
The following transaction filters and IP address tools are designed to complement your current fraud detection practices, based on custom settings which you can configure to match your individual and unique processing needs:
– Amount Filter: Allows merchants to set lower and upper transaction amount thresholds.
– Velocity Filters: Allows merchants to limit the total number of transactions received per hour or per day.
– Enhanced Address Verification Service (AVS) Handling Filter: Allows merchants to further modify how they want their AVS to decide if a transaction will be authorized or not.
– Enhanced Card Code Verification (CCV) Handling Filter: Allows merchants to further modify how CCV results will be handled, as long as you have already turned on CCV as a "Required" field on your payment form settings. eCMS recommends always requiring the CCV, as it is one of the main ways to protect against online, keyed entry fraud. (See our blog on CCV for more information.)
– Suspicious Transaction Filter: Examines transactions based on proprietary transaction behavior analysis. There are no merchant-controlled configurations for this filter. Management of this filter is handled exclusively by Authorize.Net's dedicated Risk Management team.
– Shipping-Billing Mismatch Filter: Allows merchants to identify transactions with different shipping and billing addresses.
– Shipping Address Verification Filter: Verifies that the shipping address received with an order is a valid postal address.
– IP Shipping Address Mismatch Filer: Compares the order's originating IP Address with the shipping address provided. This helps to determine whether or not the order is shipping to the country in which it originated.
– Regional IP Address Filter: Allows merchants to designate regions or countries from which they do not want to accept transactions.
– Transaction IP Velocity Filter: Allows merchants to restrict the number of transactions received from the same IP address per hour.
– Authorized AIM IP Addresses: Allows merchants submitting Advanced Integration Method (AIM) transactions to list server IP addresses that are authorized to submit transactions.
– IP Address Blocking: Allows merchants to block transactions from IP addresses.
Once enabled, all of these individual filters has four actions to choose from to determine how your gateway will treat them:
1. Process as normal and report filter(s) triggered.
2. Authorize and hold for review.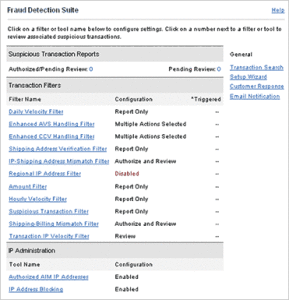 3. Do not authorize, but hold for review.
4. Decline the transaction.
Each filter also has additional, unique specifications to be edited, such as the exact number of transactions per day you want to allow for the Daily Velocity Filter.
AFDS can be turned on directly from your gateway account, after you have logged in. To do so, click on the "Tools" section along the top of your Authorize.Net home page. Along the left hand side, you will see a column with options, one of which is: "Fraud Detection Suite". Clicking on this will take you to a page with all of the above listed filters. To enable a filter, simply click on its name and then the "Enable filter" checkbox towards the top left of the page, directly under the name of that particular filter. You will find the four options to further customize how the filter will respond at the bottom of each page.
If you want any support in setting up Advanced Fraud Detection Suite, please feel free to call eCMS. We would be happy to walk you through the process.
You can read all of Authorize.Net's information about AFDS at the following websites:
http://www.authorize.net/solutions/merchantsolutions/merchantservices/frauddetectionsuite/
http://welcome.authorize.net/fds/
They have also made available a case study in which AFDS directly supported the merchant, to give an example of how it might benefit others as well: http://www.authorize.net/resources/casestudies/fds/
You can watch videos to learn more about Advanced Fraud Detection Suite and other optional features here: http://www.authorize.net/videos/
The second video down on the left side column is all about AFDS.