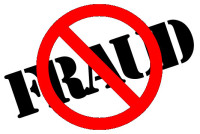 We are now in the heart of April, which means we've made it through another April Fool's Day. Just because the holiday for tricks is over, however, doesn't mean fraudsters are taking a break 'til next year. Luckily, there are many ways you can protect yourself, your business, and your customers.
One beneficial way to protect yourself from fraudulent online transactions is signing up for Advanced Fraud Protection Suite (AFDS) within your Authorize.Net gateway. This free feature has a broad selection of filters that can be applied to incoming transactions, and personalizes your control over which transactions to accept, review, or decline. Depending on the type of attempted fraudulent activity you are seeing in relation to your business's ecommerce website, you could choose to block a certain IP address or even an entire country. You can also edit how strict your Address Verification Service (AVS) is going to be, such as declining orders where the shipping address and the billing address is different, or even declining any card that does not have a billing address attached to it at all. You can read more about AFDS in our recent blog on the subject here.
You might think that online fraud mainly affects the person whose card information was stolen, but it's usually the merchant who gets hurt the most. Once a cardholder realizes their credit card has been compromised and used by someone else to make purchases online, they can go to their card issuing bank and file a chargeback. The bank will then go in and take this money back directly from the merchant, before an investigation is even underway. If the purchase was for a physical item and the merchant had already mailed it to the card thief prior to the cardholder filing the chargeback, they will most likely be out the full cost of the product, since they will be unable to retrieve it from the unidentified culprit – not to mention the chargeback fees they will more than likely incur. The cardholder will then receive the money back that has been fraudulently charged on their card, and the merchant is left with nothing. Therefore, the merchant is actually the one most at risk when it comes to online fraud, and should always be doing as much as possible to prevent it from ever occurring in the first place. AFDS aims to stop fraud in its tracks, and also helps give merchants the information they need to fight a chargeback if necessary.
While it's more common for fraud to occur in ecommerce, it can happen in person as well, through the use of a physical stolen credit card. The main concern for retail locations, however, is protecting the customer's data after running their card. Data breaches have become an all too common occurrence, but the upcoming Europay/MasterCard/VISA (EMV) updates to retail card procedure aim to protect against them. With EMV, when customers run their card, a chip in the card will transmit tokenized information – rather than the magnetic strip passing on the actual card's number. This means that even if the information is hacked and stolen, the thieves will not be able to access any real card identifying information – the tokenized information will be specific to each transaction and unable to be replicated.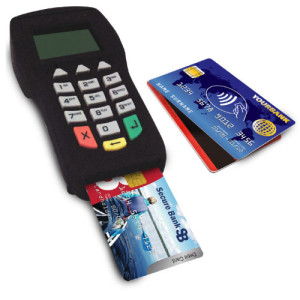 Don't forget that American Express is still offering a $100 reward gift card for any AmEx accepting merchants that upgrade to EMV before April 30th! You can read more about this promotion in our blog here, or at American Express' page about it here. Act fast to not only receive this bonus, but to also begin offering your customers better data protection right away!
With increasing options for protection from fraud in both ecommerce and retail, it is proof that knowledge really is power. The more you know about how fraud works, the better you will be able to choose the tools you need to prevent it.
Keep an eye out for part 2 of our April Fool's themed blogs, with an introduction to some common scams and how to avoid them!